EChallan- Law enforcement Solution
Overview
E Challan is process of generating Challan cum receipt for the violation against MV Act and printing the same using electronic device.
Device works on both Active and Passive mode.
In Active (online) mode device sync with server for checking theft vehicle list, alschecks with insurance renewal, pollution renewal etc. Challan data will be stored in the remote sever.
Passive (offline) mode in case of non-availability of GPRS all Challan information will be stored in the local database and later on availability of GPRS data will be uploaded tserver or by connecting tcomputer data can pushed tserver
Key Features
Fully loaded Qwerty Keypad Pos (EDC) machine
Simplicity of Use
Biometric authentication
Secure, flexible connectivity
Smart card enabled
In-built printer
Inbuilt Camera
Inbuilt GPS
On-screen Signature Capture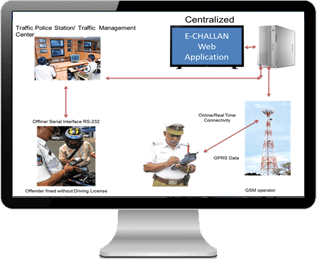 Technical Features
Department Administrator can Add/Edit Violation details , MV checking points , Challaning Officers , Accounting officer , Court Master , Vehicle Type , Ownership type , Device configuration.
Administrator or Transaction person can assign / re assign unit to officer in case new appointment or transfer of officer
Provision of converting court challan to spot challan in hand held device and/or in web application.
Writer entry for reconciliation of collected amt v/s deposited amount
Provision for manually uploading data in case of non availability of GPRS or Internet
User Friendly and intuitive interface to generate spot/court and vehicle impound challan
Capture the Drivers details using the smart card based Driving License
Capture vehicle details using smart card based Registration certificate
Gets the offence history from server and based on defined rules implements the amount to charge to offender
Calculated the GPS location of the place where the offense has been made
Capability to impound a vehicle and corresponding web feature at Zonal office to receive cash/documents later and issue Vehicle Clearance receipts.
Minimizes human errors by not typing all the data
Brings transparency to the overall system
Saves lot of time and human effort required to work on paper based challan and maintaining records etc
As system is online , reports can be generated on the fly anywhere over internet
Consumer can also see their challan reports and can take duplicate challans over internet
System helps in improving workability of officer by providing better data access, faster retrievals, higher data quality and more versality in data presentation.
The system helps in improving the efficiency , both on cost and time.
The system helps to force orderliness and standardization of the offense records and increasing accuracy and completeness of offence details
Technology
Handheld Unit comprising of Printer, GPRS, GPS, Qwerty Keypad, Touch Screen, Smartcard used by traffic officer to challan the violator on field.
The device has embedded application installed with a rich graphical interface application to record the offence related data and post the data to the respective server using GPRS.
Backend System comprises of:
Computer based centralized database server with a software application given to department to define parameters like (Offence Types, Pricing, Rules, Vehicle category etc). This web based serverapplication is hosted with Primary installation at the HQ of department and individual servers at each district levels. All district servers synchronize with central server periodically so as to ensure system availability all times.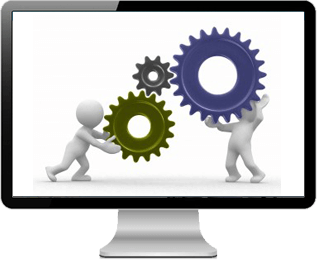 Key Business Benefits
The traffic officer doesn't have to write the offense type, offense place, vehicle type etc, just enter the respective codes pre-defined by the commissioner authority.
Very user friendly keypad to type in the name, address & generate spot and court challan.
Avoid errors in totaling all the challan since this can be generated as quick report as Total Collection Amount, Total Spot Challans, Total Court Challans etc.
Displays total collection of the day with a click of a button.
Quick segregated report such as SPOT CHALLAN LIST is generated which indicates a total number of cases of the day with ordered challan numbers, date and time of the offense.