Wallet Aggregator
Wallet Aggregator Platform is a comprehensive full service solution which enables acceptance of digital wallets at physical retail locations by consolidating and aggregating multiple wallets on a single platform thereby providing a single stop window for digital wallet acceptance. Wallet Aggregator Platform provides a wide range of core wallet payment processing features that help ensure wallet transactions are processed securely, completely at every stage starting from origination to authorization.
The platform acts as a wallet transaction processing hub, seamlessly integrating with transaction originating systems. It performs validations, routing, transaction matching, and real-time authorization from Wallet Issuers.
The platform is a powerful multi-issuer wallet aggregator system capable of handling high-volume of on-line transactions within the retail, e-commerce and m-commerce marketplaces. At the heart of the platform is a robust and secure middleware server – that is built on a firm foundation of well-tested technology. Capable of operating 24 x 7, platform middleware server is an application for collecting and processing on-line wallet payment transactions from all consumer touch points including classical merchant online point-of-sale (POS and EPOS) terminals, remote Internet and mobile commerce nodes.
Key Features
Register Wallet Issuer profile details and unique Issuer Id generation
Define fees and agreement for wallet transactions
Merchant registration with profile details
MID & TID generation for wallet acceptance
Terminal parameters definition/ configuration
Velocity checking for number of transactions and amount limits
Transaction reconciliation and exception/ disputed transactions handling
Processing of Issuer settlement files
Settlement files for Merchant payouts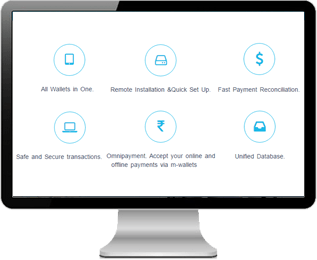 Technical Features
Thin Client Architecture/Dynamic Transaction Schema – ON-THE-FLY deployment of new/existing issuer with new request/response structure.
Supports multiple transaction interfaces – NFC, QR code & manual entry
Supports Terminals on GPRS, CDMA & PSTN networks
Fixed, regularly scheduled reports; Web-based dashboards, reports, and interactive analytics
Secure System - OWASP Complaint System & IP address authentication for application security & MAC generation & authentication for transaction security
Business Benefits
Unified single platform for multi wallet acceptance
Future ready solution with possibilities to offer other VAS services
Rides on existing infrastructure and no additional cost of network for transaction communication
No additional cost of development & integration
Architected to scale and perform on large volumes
Offering
For Wallet Companies
Cloud based platform enabling wallet payment acceptance at physical locations
Instant wallet enablement leveraging existing widespread merchant network of partner Banks, Oil Companies and 3rd Party Payment Processors
Obviates the need of acquiring and onboarding individual merchants
Removes operational hassles of merchant queries related to transactions and settlement
Single window clearing, reconciliation and settlement of wallet transactions on master merchant model
For Merchants/Acquirers
Enablement of new payment acceptance mechanism thereby increasing brand proposition
Single window setup for servicing of wallet transactions acceptance
Multi-wallet acceptance under same processing ecosystem
On the fly rollout and acceptance of new wallets at point-of-sale
Merchant self-service portal and helpdesk
Reduced operational and transaction processing costs